---
Shop Top Categories for 2010-Up Camaro Parts and Accessories:
---
Shop By Year for 2010-Up Camaro:
---
Featured Brands for 2010-Up Camaro:
Free Catalog - Performance and Restyling Parts and Accessories for 2010-Up Camaro Models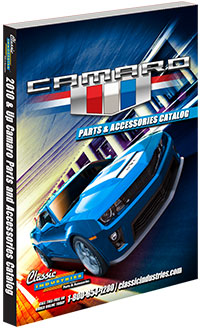 Since 1976, Classic Industries® has offered parts for the iconic Chevrolet Camaro. We've made our name serving the Camaro community, but we're not just about restoring Classic Camaros. We've worked hard to put together the most complete collection of restyling and performance parts available anywhere for the 2010-Up Camaro. You can depend on our 30+ years of experience and great customer service. Consider us your one-stop-shop for everything 2010-2020 Camaro.
Our expansive lineup of restyling and appearance parts includes everything to make your Fifth or Sixth Generation Camaro stand out from the crowd. We stock ground effects, spoilers, hoods, window louvers, emblems, engine dress-up parts, shift handles, interior trim kits, vintage emblems, floor mats and more.
We're not just about changing the look of your ride, either. We stock a full selection of high-performance upgrades to improve every aspect of your 5th or 6th Gen Camaro. Just a few examples of the performance parts we offer are exhaust systems, intakes, radiators, superchargers, underdrive pullies, radiators, shift kits, big brake upgrades, ECU tuners, performance suspension parts and more.
---
Latest News for Camaro Enthusiasts: