---
Shop Top Categories for 1967-2002 Firebird and Trans Am Parts and Accessories:
---
Shop By Year for 1967-2002 Firebird and Trans-Am:
---
Featured Brands for 1967-2002 Firebird and Trans-Am:
Restoration and Performance Parts and Accessories for 1967-2002 Pontiac Firebird and Trans Am Models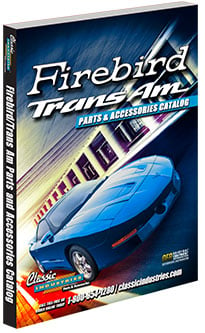 Classic Industries® has offered restoration parts for the iconic Pontiac Firebird and Trans-Am since 1991. Since then, we've expanded to provide parts and products for each model year ever produced, from the first 1967 to the final 2002 model to roll off the assembly line. Our expansive inventory includes nearly everything needed to return your Firebird or Trans-Am to showroom condition inside and out, from the body to the engine bay to the interior upholstery. In fact, you can practically build a Firebird from scratch entirely from our massive parts catalog!


Restoration isn't all we do, either. We also offer performance, modernization and restyling parts to suit nearly any build, whether it's showroom stock, restomod, drag-strip hauler or pro-touring canyon carver. If you're looking for parts for a Firebird or Trans-Am, you've come to the right place.
---
Latest News for Firebird and Trans-Am Enthusiasts:
Firebird and Trans-Am 1967-2002